I'll be back later. =) I woke up early to do a favor for the b/f that is out of town. Favor accomplished, I'm going back to bed. Tee hee. Napping by 9am is great. Gotta love college!
Well....you know those days that you just
accomplish nothing worthwhile? Yeah, that
was today for me. I was supposed to work on
my garden which is brand new. *giggles* I'm
really looking forward to having one, but I have
a black thumb. Oh well, this is my brand new garden.
hehe. Yeah, as you can probably see, not much of a garden yet. =0) So far my plan is to plant some green peppers, carrots, basil, oregeno, rosemary, mint, maybe some chile peppers. I dunno what else I'll put out there. I have my doubts that any of it will grow, but the idea amuses me.
Hmm....what else did I do today? I really didn't feel like doing anything today and I hoped that leaving the house would help me get motivated to do, well, anything! I went to the $1 Store because right now, that is the only store in my price range. hehe. I have something to admit here....it is a very guilty admission...I LOVE the $1 Store. It is so much fun! If I ever won the lottery, I think I could spend millions on useless junk. Today's useless junk that I bought...poker chips, magnets, and super glue.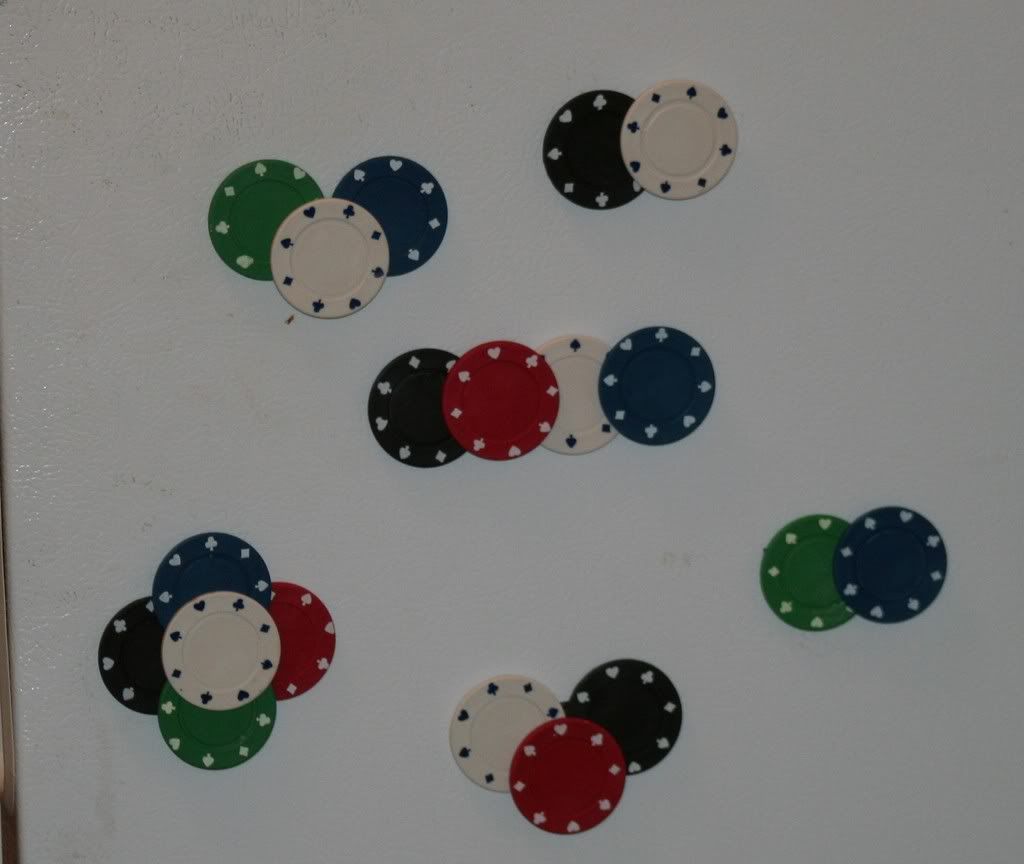 Don't notice the dirty fridge =0p

Yeah, the formatting on this post is going crazy. Apparently I'm not adding in pictures correctly or maybe my computer just hates me today. I dunno, but check out those magnets!! *giggles*
I've got another issue I'd like some insight on. I know why I didn't feel like doing anything. Yes, being lazy does add into that somewhat; however, most of the problem is not having a schedule. I don't technically *have* to do anything because I'm out of classes for the summer. I should be doing stuff, but I don't have an enforcement policy, so I get lazy. So, here is my problem. I'm really having trouble eating enough since I'm not scheduled. I'm not doing anything (other than beign lazy) so I'm not hungry, so on days like today, I find myself sitting around at 5pm having not eaten anything. I come to a new resolve after days like this to make sure I start a schedule, but I won't. I'm awful like that. I just can't keep track of time. Honestly, when I am in classes, I'm really bad about keeping time too. Think Absent Minded Professor. hehe.
Anyway, any suggestions on how to get all the calories/food groups I need in a day?