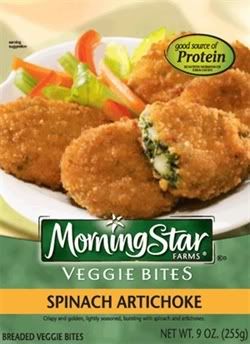 So I went to the store and looked over the Morning Star foods available to me. Honestly, the grocery I shop at down here is pretty small in comparison to those I shop at in Kansas City. The selection wasn't that large, but I decided that the Spinach Artichoke bites didn't sound too frightening. After all, I like spinach artichoke dip, so this would be about the same thing, right?
hehe. WRONG! But I wasn't wrong in a bad way. When I took them out of th box, they looked a lot like chicken nuggets to me. I chose to cook them in the oven because I've always enjoyed anything with breading to get that extra crunch. I wasn't too thrilled with the fact that these small little nuggets had to cook for 16 to 18 minutes, but I patiently waited for them to be done.
When I bit down on the first one, for some reason I was sure I was going to encounter spinach artichoke dip inside. Needless to say, I was a tad disappointed. Seeing as spinach artichoke dip contains yummy cheese in mass quantities, it probably isn't as good for me as these bites. After busting through that mental image, I went on to take another bite. The nuggets are stuffed with spinach, (I'm talking, you bite down and are greeted with green shredded spinach trying to escape its crunchy breaded outsides) but I didn't see that much artichoke. The taste isn't bad at all. It doesn't have a strong spinach flavor, in fact, I couldn't tell you what type of flavor these things have! I'll be the first person to admit that I am a very, VERY picky eater. In the past, if it was green, it wasn't coming near me. But I will buy these again.
I could see trying to feed these to an amaeture veggie eater --like a kid or a picky adult-- If you can get them past the idea that what they are biting into is green, I think the taste will have the picky person eating up the rest of the nugget. One caution, as these started to cool, I didn't think they were nearly so good. Definitely the last part of the meal that needs to be cooked. One other down side, I thought they were awfully high in fat. I think artichoke is naturally high in fat, and there is some cheese inside, so those two things combined with the breading probably are the cause.
Serving size: 3 pieces
Calories: 190
Fat: 10g
Fiber: 2
Protein: 9