Can you see the pictures? I keep getting an error message why I try to post.
">"
Well, what can I say? Today was just another ordinary day. So, to spice this post up a little bit, I decided to slap in some photos. Maybe they will distract you from the very little that is going on in my world. Speaking of spicing things up, blogger hates me when I try to put in photos. Sorry, I shrank these down and chose "small" but they are still huge. Hope they don't screw up anyone's PC too badly.

I've been doing a lot of thinking lately about whether or not I want to move out of Missouri. I'm getting fairly close to completing my Masters degree now, so I need to be doing a little bit of planning for the future. I've always thought I'd move away. I've always dreamed of living somewhere other than here, but as the time approaches for me to really make that decision, I find myself thinking about all the things in Missouri that I'll miss. Being able to drive an hour and go out into the country will be one of those things.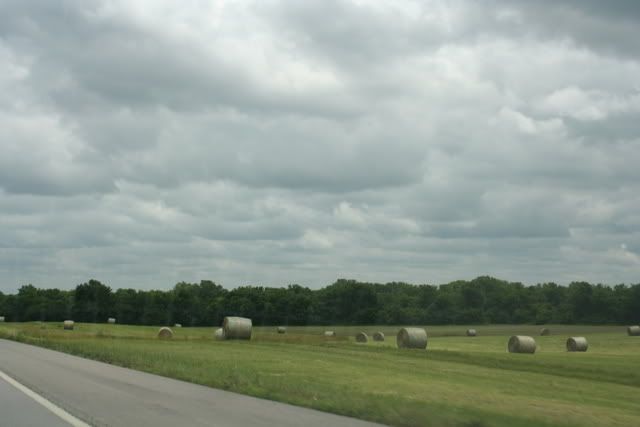 I spent a lot of time in my garden today. Just hanging around outside. As awful and cloudy as the sky looks in the pictures, it never even sprinkled on me. Oh yeah, speaking of the pictures....sorry that they are a little bit blurry. they were taken while I was driving and through my windshield, so the picture quality is a bit interesting. But I still think they will give you the idea of how nice it is to be in the country =0)
I'm off to bed. **hugs** Have a great day everyone!
Breakfast: Chex 100 calorie pack (strawberry) and a diet coke
Lunch: 1/2 Goodcents sub and a diet coke
Dinner: Fish sticks TV dinner meal and 1 liter of water
Tomorrow: Grocery store!!!